I was hoping to get away without posting much about NATO. I mean, we've already posted this story about the fence, and put up a load of photos on Instagram and shared stuff on Facebook about it. But I mean, the scale of thing. You can't ignore it, can you? Even just for the 10,000 police that are standing around south Wales looking a bit bored at the moment. But I've read a number of interesting articles around NATO, seen some cool photos, and so on. So I thought I'd do a small digest for you.
Want some vital stats about the NATO Summit in Newport? Numbers of police, total cost, where the police officers have come from, where the money to pay for it comes from? Head to this article on the Guardian.
This morning, the Red Arrows did a flyby over Cardiff, en route to dazzle the political bigwigs in Newport. And fair play, it was pretty cool.

(photo by the National Assembly for Wales)
Today, one of the top stories on reddit is this photo (unfortunately from the Daily Fail, but this link is on imgur so you won't add to their traffic), with the following caption: "Shit – should have left the weed in the car"
(the comments are pretty funny, so I recommend reading through them.)
My favourite thing so far has been how creative people are getting with their photography. Some of these are cheesy, but they made me chuckle! All of these photos are from Facebook / Instagram / Twitter – click on the image to go through to the original.
So here goes:
Derek the weatherman gets a mention….
Obama gets leathered in Charlie Browns on cheapo Jaegerbombs
Nothing says 'fun-fair' like a machine gun (I wonder how many parents have avoided the Cardiff Bay 'beach' based on all the automatic weaponry that now surrounds it!)
The NATO leaders in front of Cardiff Castle … it's a great shot, has something of the enforced end of year school photo about it (especially how some of them are looking off into different directions). Also the one in the front row who didn't get the memo about wearing black …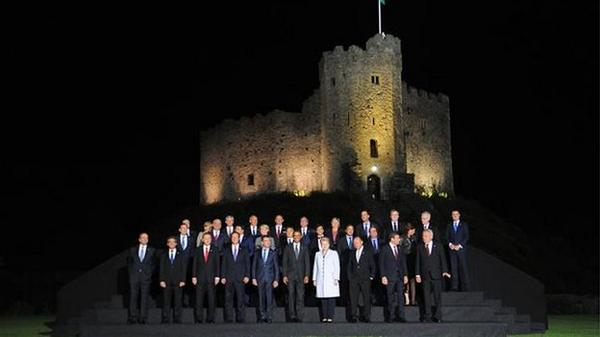 Michelle's heard about Cardiff's reputation for being a party town. She's off!
Glasgow says peace! (and get your tartan out). A Scottish viewpoint in one of the local NATO protests…
Barack's lasting memory of Cardiff? Ninjah playing the bins of course…
There are also a load of great photos in this photo gallery of things happening around NATO, on the Guardian. This picture of the fake tanks on the golf course at the Celtic Manor is my favourite, though I'm not entirely sure why…
NATO FRINGE EVENTS THIS WEEKEND:
NATO fringe. Ha! Should trademark that. Alongside the usual protests taking place around anywhere the politicians might be, there are the following events taking place in Cardiff this weekend:
Saturday: Forage around the fence

Cardiff's new fence has caused some controversy and plenty of grumbles. On September 6th we're inviting people to enjoy Bute Park in spite of it's new steel structure as we lead a family-friendly forage for tasty seasonal treats. Join us to forage around the fence! You never know, Obama might even join us!
You and your family will learn about the wild food available in late summer and autumn and have fun foraging for tasty wild edibles. We'll have plenty of games and activities along the way – put your taste buds to the test, get crafty and discover some of the wildlife living in the park. Adults will develop skills and knowledge to find wild food for free in the city. You'll learn what's in season and how to forage safely. You'll also take home plenty of suggestions for how to prepare your wild treats.
Also join us for a picnic in the park at 12.30. Bring along your own food and join us in tasting some of the wild food we have foraged and prepared.
£25/£30 family ticket /£20 adult
You can book your place here: http://www.greencityevents.co.uk/what-we-do/what-s-on/
Facebook event: Forage around the fence
Sunday: Meet the Armed Forces Day
The public are invited along to a 'Meet the Forces' event in Cardiff Bay. The day's events will give people the chance to hear about what the Armed Forces do, and see some of the equipment used in its duties. There'll be the chance to explore ships including the Type-45 Destroyer, one of the Navy's most advanced ships, climb army walls, examine tanks and RAF replica planes and enjoy military bands.
The 'Meet the Forces' Day will run from 11am until 6pm, and according to the press release visitors will be able to:
Visit the eight Naval ships (from UK, France, Latvia, Lithuania, The Netherlands and Norway) which are docked in Cardiff this week;
Study the Army's military kit – tanks and other vehicles – and try out their climbing walls and inflatable assault course (Ed's note: study them? will there be a test at the end??)
Enjoy the RAF's replica aeroplanes (Ed's note: I don't even know where to begin with this sentence. Enjoy? Replica? Eh??)
Listen to five military bands playing at locations throughout Cardiff Bay.