It's party time! But do you ever wonder how much power is generated by recycling? Angela from Recycle for Wales is here to tell us how to use your waste for good this season!
The #RecycledBeats Christmas campaign claims that recycling just one bottle of prosecco could save enough energy to play the entire Super Furry Animal's Radiator and Fuzzy Logic albums on a home stereo 13 times each and power a spinning disco ball for five and a half days.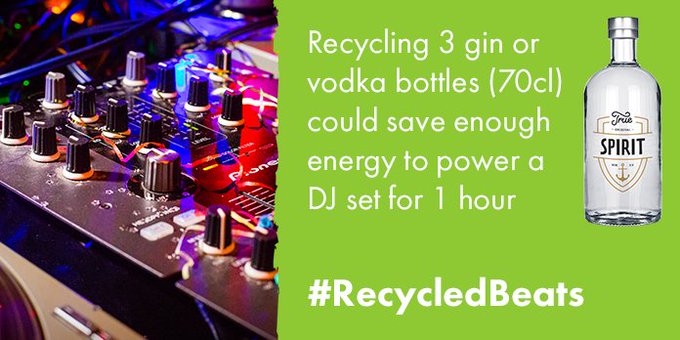 Prosecco power doesn't stop there either. Playing a gig at the Tramshed on 20th December, Welsh singer and green queen, Charlotte Church said:
"Every little effort we make to recycle more can enable us to do more of the things we love without harming the world around us. If I recycled one prosecco bottle, I could save enough energy to power both the guitar and bass in my Late Night Pop Dungeon show for the full hour. That's amazing!"
Everyday non-party items also provide a range of opportunities for recycling – from all types of drinks bottles to toilet roll tubes and wrapping paper.  Recycling one aluminium deodorant can saves enough energy to power a home stereo for 32 hours – that's 480 plays of Mariah Carey's All I want for Christmas is you.
Whether going out or staying in throughout party season – your energy saving recycling can take place before, during and after the party and throughout the year at home.
Getting ready- Good tunes are an essential part of ANY pre-party preparations. Whilst you're singing into the shower head at home, remember that one hairspray canister could save enough energy to play three of your favourite albums on your home stereo, back to back.
The party- Who needs a band? Recycling just one wine bottle saves enough energy to power a home stereo for 24 hours. You could also provide the disco magic by recycling just one tube of toilet roll, which saves enough energy to keep the disco ball spinning for two whole hours.
The clean up- The party is over and everyone is asleep, and yet the empty cleaning products still have a lot of energy. That one bleach bottle used saves enough energy to power a guitar amp for two gigs, the deodorant bottle- nine gigs! That's enough for all of next year's parties too!
The following day- Baby its cold outside! If you're staying at home on the sofa with your duvet, recycling four beer bottles could save you enough energy to power your favourite Christmas classics, including Home Alone and Love Actually.
Angela Spiteri, campaign manager for Recycle for Wales said:
"Partygoers often forget you need energy for more than just dancing; the power for the party can come from simply taking the time to recycle your drinks bottles. It can take up to 95% less energy to make products from some recycled materials compared to creating materials from scratch.

#RecycledBeats highlights how this translates into actual energy to power all things musical – from bands and DJs playing across Cardiff this festive season."
To find out more about #RecycledBeats, visit www.RecycleforWales.org.uk/RecycledBeats.