(PLEASE NOTE! THIS PAGE WAS LAST EDITED 12 JUNE 2020. IT IS NO LONGER BEING ACTIVELY UPDATED).
There are a number of ways you can support Cardiff's frontline staff. This page covers a number of INGENIOUS fundraisers that are being run by Cardiff people – to FEED STAFF AT NHS HOSPITALS!
There's also another We Are Cardiff page dedicated purely to donating money / supplies for staff at NHS hospitals.
Please comment below if you have more links that need to be added. And if you can, donate generously.
See also:
FEED STAFF AT HOSPITALS
So far I've come across THREE different fundraisers organised by amazing local businesses, all raising money to deliver food /  coffee /  meals / snacks etc to staff in hospitals in Cardiff.
FEED THE HEATH! CO-ORDINATED BY WATERLOO TEA – Feeding NHS staff at UHW – Heath Hospital
Waterloo Tea's GOFUNDME – Feeding NHS staff at UHW – Heath Hospital
Working in collaboration with the NHS staff and volunteers, Waterloo Tea have set up a volunteer cafe in the Heath Hospital Sports and Social Club, open from Monday 30 March, providing free food and drink to NHS staff working there.  (It's not a Waterloo Tea cafe – they are just co-ordinating and their staff are volunteering there). This is the Feed The Heath project!
The cafe is intended to be a place close to the hospital buildings where NHS workers can get some respite. With cafes on site closing down recently the food options are becoming even more limited. They're aiming to offer healthy nutritious food to fuel the staff at the hospital.
They will also be co-ordinating any donations of food that businesses want to give to the hospital. They are asking other businesses/initiatives to get in touch, so they can coordinate together. So far they are supported by Ace Essential Supplies, Windsor Fruit and Veg, Cakes by Angela, Juboraj Restaurants, Brod – Danish Bakery, Early Bird Cafe, Penylan Pantry,  Milkwood Restaurant, Penylan Preserves, Wellfield Fish Bar, Restaurant James Sommerin, Secret Garden Cafe,  Welshman's Lunch, Lucinda's Kitchen, PLUS MORE!
HOW TO HELP:
ORGANISED BY HOLY YOLKS – Help the Heroes
Holy Yolks JUST GIVING – #HELPTHEHEROES
The #helptheheroes campaign has been set up to help feed our amazing NHS staff by a collective of independent food businesses from the Cardiff and Newport area. The plan: A weekly food based care package, made up of goods from each independent business involved, will be dropped off to a different hospital each week in the Cardiff, Vale and Newport area. So far wonderful Kev has worked with loads of wonderful local chefs and kitchens, including Wild Thing,  Leyli Joon,  Bad Boy Brownies – and has delivered food and drinks to Heath Hospital, Llandough Hospital, and Rockwood Hospital (who have no on-site food provision for staff at all, so really need the food!)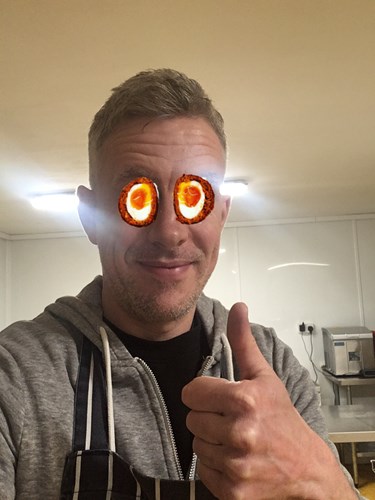 ORGANISED BY GRAZING SHED – Feed the Frontline
Grazing Shed's GOFUNDME – FEED THE FRONTLINE
This joint effort co-ordinated Grazing Shed pulls in a ton of local food businesses to feed and water NHS frontline workers. You donate money to the campaign, the food makers make food and deliver it to hospitals in Cardiff.
Have we missed anything? Please add in the comments, SHARE THESE FUNDRAISING OPPS FAR AND WIDE.
Oh – and stay inside, and wash your paws.
Peas. WAC x
See also:
***