UPDATED 31st AUGUST! While one half of We Are Cardiff is a proud Cardiff Bay-er, the other half lives in Canton. As Cardiff is so small, we always take it for granted that everyone knows all the nice places to eat and drink. But we met someone the other day who didn't know Canton beyond Chapter, so we thought we'd do a little round of our favourite spots in Canton (and slightly beyond) that you may not know about.
We're assuming here that everyone knows the well-established big hitters of Chapter, Bangkok Cafe, Calabrisella, Ichiban, Got Beef, Kimchi, Chai Street, Time and Beef and The Lansdowne. Have we missed any off this list?
St Cannas, 42 Llandaff Road @stcannas
This place has quickly become our new local since it opened in April. Run by the lovely James, he keeps us busy between free beer Fridays, delicious local ale, food popups from the likes of Pettigrew Bakery, Bearded Tacos and Great Eggspectations, pianos, games, dogs, babies, artwork and general warm, friendly lovely amazingness. We have SO MUCH love for this tiny micropub! (photos from @stcannas/@sarahchew1/ @pettigrewbakes)
Clwb Iechyd Da gym, 317 Cowbridge Road East http://www.iechyd-da.net/  @gampfaiechydda
Hidden away beside a mobile phone shop opposite Peacocks, we stumbled upon this place after moving to Canton. For £25 a month (no contract), you get access to a super friendly gym (run by the wonderful Mered), with a great selection of weights and cardio equipment and a fantastic selection of classes (no extra cost). From fitness pilates to to circuits, they also run socials and competitions. AND Mered let me rig my trapeze in the studio! What a hero.
Vivo Latino, 147 Cowbridge Road East www.vivolatino.co.uk / @vivolatinocdf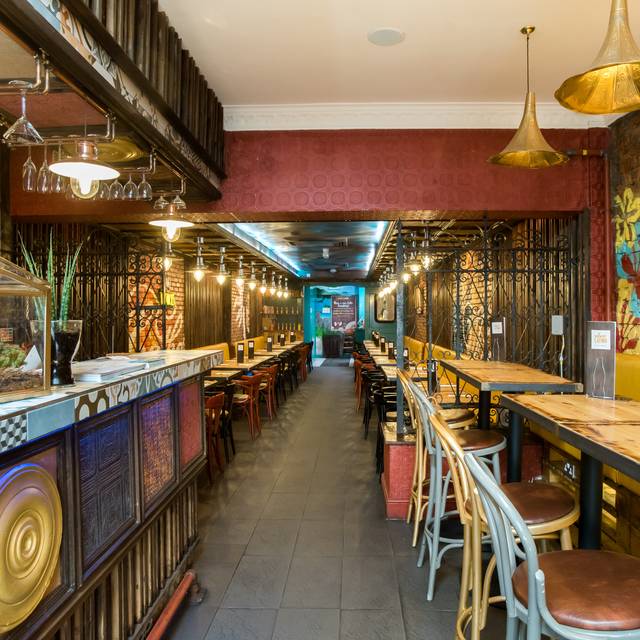 It's easy to miss Vivo Latino at the city end of Cowbridge Road, but it's a great spot for big groups or a quick cocktail. When it first opened, we decided that their nachos are THE BEST in Cardiff. The staff are super lovely, the decor is cool and the drinks are great.
Crafty Devil Brewing, 16 Llandaff Road @craftdevilbrew
This place is a three-in-one: brewery, bottle shop and bar! The CD boyz make their own beer in Canton (I'm reliable informed it's cracking stuff, especially the Mikey Rayer) the bar has a great atmosphere and they now have a big screen and Sky Sports out the back for SPORTZ. (photo from @craftdevilbrew)
Dusty Knuckle pizza, 70 Llandaff Road (inside Printhaus) @dusty_knuckle
Again, another hidden gem! If you wander through the Printhaus gate on Llandaff Road of an evening, you'll find this oasis of tasty food and booze. Since they moved here about a year ago, it's hard to get a table in the semi-outdoor restuarant. The pizzas are spectacular, with adventurous combinations and perfect dough. The environment is so special, and the staff are banging too.
Printhaus, 70 Llandaff Road, @ThePrinthaus
Speaking of Printhaus, we couldn't miss those guys off our list. Printhaus is an independent creative community based in Cardiff, offering artists' studios, screenprinting workshops and event space. We've all taken workshops here, from bookbinding to screenprinting, and their frequent artists' markets are ideal for presents, interior decor and art. Super friendly classes are a great way to try out different skills for a day, You can see their upcoming courses here. (photo from @ThePrinthaus)
The Bone Yard, Rear of 35a Romilly Crescent http://www.theboneyardcardiff.co.uk/  @boneyardcardiff
The Bone Yard is a collection of fitted-out shipping containers in an old scaffolders yard at the back of the Printhaus. These colourful little boxes are home to myriad of creative, wonderful people and businesses including: Therapy at the Bone Yard, Free Range Frames, Twin Made, England Designs, Ffwrnes Pizza, Yurt in the City and Magpie Gallery among MANY more. So if you're looking for a therapist, handmade books, galleries, craft classes, pizza, frames or regular markets and events – GO FIND IT!
Manglas Spice of Life, 587 Cowbridge Road East, @manglasspice
We were lucky enough to check Mangla's out in the first week of trading, and since then she has brought a burst of spice and happiness to the top of Cowbridge Road (opposite Victoria Park). Her exceptional skills as a cook are matched by her hosting and effervescent personality. It's an Indian vegetarian restuarant, but also has great reviews on the vegan site HappyCow.net. Read Mangla's story on WalesOnline!
The Dough Thrower, 591 Cowbridge Road East @thedoughthrower
We literally only tried this place out yesterday, after hearing our buddies RAVE about it. It DID NOT disappoint! It's just a few doors up from Mangla's, and sports a fresh and modern interior that overlooks Vicky Park. Bedecked with houseplants and trendy lighting, the open kitchen churns out incredible pizzas with unusual toppings like cashew cream with spinach, and tasty-ass starters like dough sticks with a tomato dip and HUGE green, lemon infused olives. Smashing staff, great Poretti beer on tap and kid-friendly. They are planning to expand the menu to include meatballs, and are starting Prosecco Sundays…. I don't know that it involves, but I'm in.
Pettigrew Bakery, 595 Cowbridge Road East @pettigrewbakes
YOU LIKE BREAD AND CAKES AND MERINGUES THE SIZE OF A CHILD'S SKULL? Yep, us too. The Pettigrew tea gang have built a baked empire of tastiness and long may it spread! Their innovative pop-ups (like pinxtos at St Cannas) are a fantastic way to sample their goods if you're too lazy to walk up Cowbridge Road.
Falafel Wales, 122 Cowbridge Road East @falafelwales
It maybe not the trendiest, newest place on Cowbridge Road, but if you want super fresh, really cheap, tasty Middle Eastern food, this is the place.
Thompson's Park, Romilly Road
We are always surprised how many people don't know about this beautiful park that sits quietly between Canton, Victoria Park and Pontcanna. The beautifully kept lawns, gardens and trees are set across a gentle hill, and the field at the top has a great view across the city.
Canton Cobbler, 236 Cowbridge Road East http://www.cantoncobbler.co.uk/
And so, to end, a classic. If your heels break 5 minutes before leaving for a party- they're there. If you need a new key cut after an scuffle with a metal-eating wolf- they're there. If you've realised that you don't have anything but Converse to get married in- they're there. Cheap, reliable, excellent quality, AND they have a great logo.
ADDITIONS – 31st August
We had lots of suggestions for additions to this list, so here goes:
The Bee & Honey, 63 Clive Road http://www.thebeeandhoney.co.uk/ @thebeeandhoney
This place only recently opened and we haven't had the chance to visit yet. But, judging by the people who recommended it, we should head over soon! It's a deli and cafe, and sells a wide range of goodies from freshly baked artisan breads and marinated olives to Welsh cheeses and homemade jams and pickles. The cafe menu looks fab too, we can't wait to check it out!
Canton Grows Wild community garden, Lansdowne Road @cantongrowswild
Since its establishment up a few years ago (we covered it here), this beautiful little patch of life has matured into something fabulous. They throw garden parties and gives Canton and Riverside residents a chance to get their hands dirty by volunteering.
Park View Cafe, 571 Cowbridge Rd http://parkviewcafe.org.uk/ @parkviewcafe
Another recommendation from a lovely reader: Park View Cafe is just opposite Victoria Park, run by "lovely people and good food and very affordable prices" in the words of Aivi! We were sold already, but the cafe is also a social enterprise- it supports trainees with learning disabilities, who may struggle to find regular employment, to give them the confidence and skills to find work.
Cardiff Print Workshop, Market Road (opposite Chapter) 
Sally Williams left us a comment about the print workshop (unfortunately we couldn't find a working website or Twitter account). She said "Cardiff print Workshop has a gallery and small workshop [..]  It's open every Saturday from 10.00 to 3.00. They sell original prints, handmade books, cards etc. All of the work is made by members and are original prints that have been either etched, embossed, litho or relief printed. The work is really high quality and they do classes! Watch for the latest dates and times pinned up on the front window."
I've never been in there even though I live on the next street – one to put on the list!
La Creperie De Claudie, 1 Victoria Park Road West https://www.facebook.com/lacreperiedeclaudie/
How could we miss this out?! Beautiful crepes and waffles, in a stunning location. Amazing service too! We've been reliably informed that the milkshakes are banging.
Fair Dos, 10 Llandaff Rd https://www.fairdos.com/ @fairdoscardiff
Lovely little Fairtrade shop- selling everything from food to candles!
***